Summer may be rapidly coming to a close, but there is still plenty of time for a kayak trip in one of Michigan's famous bodies of water. Whether you seek lakes or rivers, I have had the pleasure of polling fellow readers and compiling a list of Michigan's favorite waterways.
Stand-up paddling might look like a new sport, but it's been around for a long time. The water sport is now growing the fastest around the world. One reason is that it's easy for almost anyone to learn how to ride a paddleboard. Another is that it gives you a lot of freedom. You can use a stand-up paddle board on any lake or river in Michigan, even if it has a winding waterway. Stand-up paddling lets you be one with nature in some of the most beautiful places on earth while walking on water.
The places below are great for multi-day or overnight paddling trips in Michigan.
1) Onekama to Arcadia via Lake Michigan
His is probably one of the most peaceful waterway treks in our Great Lakes State. Travelers have the opportunity to view Arcadia Bluffs from the water as they paddle by and scope out potential golfing opportunities. Since this area is part of the Sleeping Bear Dunes National Lakeshore, there are great adventures to have at almost every point along the way if you want to stop and picnic.
2) The Backwaters at Tippy Dam
The Backwaters at Tippy Dam are for the adventurous hoping to catch a glimpse of wildlife. Great fishing is available here if you are seeking walleye or small-mouthed bass. Experienced fishermen say that the panfish are abundant as well. Due to the wooded surroundings, there is a good chance that visitors will spot at least one eagle during their adventure. The peacefulness of these Backwaters is great for an escape from civilization and truly getting a Northern Michigan experience.
3) Canals of Detroit
While Detroit may not be the first place you think of to enjoy a water-filled experience, one particular Awesome Mitten-er offers a unique perspective on its waterways. Ms. Joanna Dueweke swears by touring Detroit's canals via kayak or stand-up paddleboard. It's a great way to enjoy historic buildings and homes from a completely different point of view than the general public. Some of the best and most convenient places to launch are Alter Road, St. Jean, or Belle Isle.
4) Turnip Rock Port Austin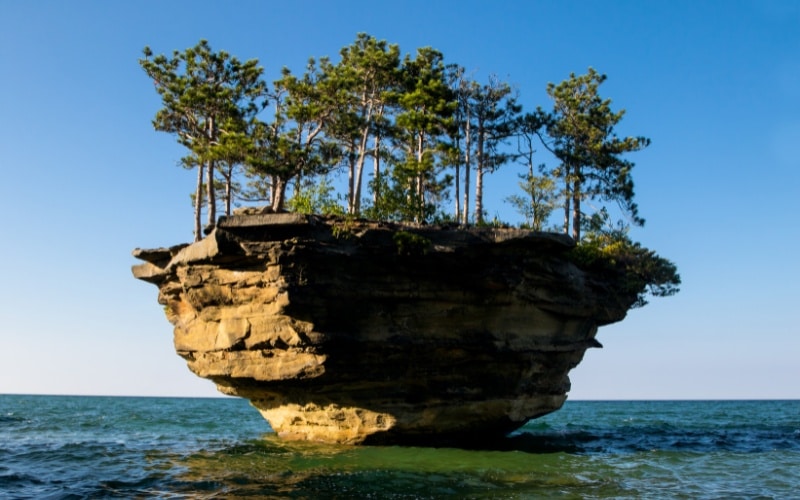 If you have not had the pleasure of experiencing Turnip Rock via Lake Huron, I insist that you head there immediately. This enormous rock received its turnip connotation from thousands of years of erosion from storm waves. Now, it is an island with a few trees and little other vegetation. The land nearby is all privately owned, so the only way to view it is by waterway or trekking across a frozen Lake Huron in the winter. It is quite the comedic, awe-inspiring landmark, located at the tip of Michigan's thumb.
5) The Platte River
The Platte River is a personal favorite, and though it may not be a secret, it is worth a mention to remind you to traverse its calm, strangely warm waters. The Platte is a great place to take families as it is easy to navigate and always warm enough to tube if kayaks are not readily available. As part of the Sleeping Bear Dunes National Lakeshore, it is no surprise that the Platte River is absolutely stunning. Its ending pours out into Lake Michigan with a mini peninsula jutting out between the two, dividing the playful river and the wild waves.
6) Huron River near Ann Arbor
This is the only state-designated Country Scenic Natural River in Southeast Michigan. It is a huge river that covers five counties, with each portion being strikingly worthwhile. During various portions of the river, floaters can expect to come across an abundance of dams; there is 96 total, to be exact. Many of these dams were built for mill or hydroelectric power, making them fairly large. Due to the size of these dams, many new lakes have formed along the Huron River, making for exciting sites to see almost every portion of the way.
7) Two-Hearted River, Eastern Upper Peninsula
Any river that has a beer named after it clearly needs to be traversed. It is a fairly short river that empties into Lake Superior, and it does a great job of capturing the Upper Peninsula's natural beauty. At the mouth of the river, travelers can see a Michigan Historical Marker; formally known as the Two-Hearted Life Saving Station, which then became part of the United States Coast Guard in 1915. The Two-Hearted River is exceptionally famous for being a great place to leisurely fish, probably while enjoying a nice Two-Hearted Ale from Bell's Brewery.
If you love to paddleboard, these seven of the best destinations for paddling in Michigan will give you plenty of chances to stand-up paddleboard in some of the cleanest turquoise waters in the world.
Do you have a favorite Michigan paddling trip that's not on the list? Please share with us below!