My family and I finally had a Sunday with no plans, so we decided to head down to the (relatively) new DNR Outdoor Adventure Center located east of downtown along the Riverwalk. What a great place to spend a few hours – especially on a cold/snowy day when there aren't as many outdoor options available.
The DNR Outdoor Adventure Center is located in a beautifully renovated building located along the Riverwalk.
Detroit, a vibrant urban city known for its rich history and culture, also hides a treasure trove of outdoor adventures waiting to be explored. From sprawling parks to serene waterways, the Michigan Department of Natural Resources (DNR) has curated a playground for outdoor enthusiasts. If you've been craving an adrenaline rush or seeking a breath of fresh air, look no further than Detroit's outdoor adventure offerings.
Exploring DNR Outdoor Adventure Center
Escape the concrete jungle and immerse yourself in Detroit's lush green spaces. Discover the city's major parks, each offering a unique outdoor experience. Whether it's the majestic Belle Isle Park, boasting picturesque views and a myriad of recreational activities, or other notable parks with amenities catered to your interests, Detroit has something for everyone seeking an outdoor oasis.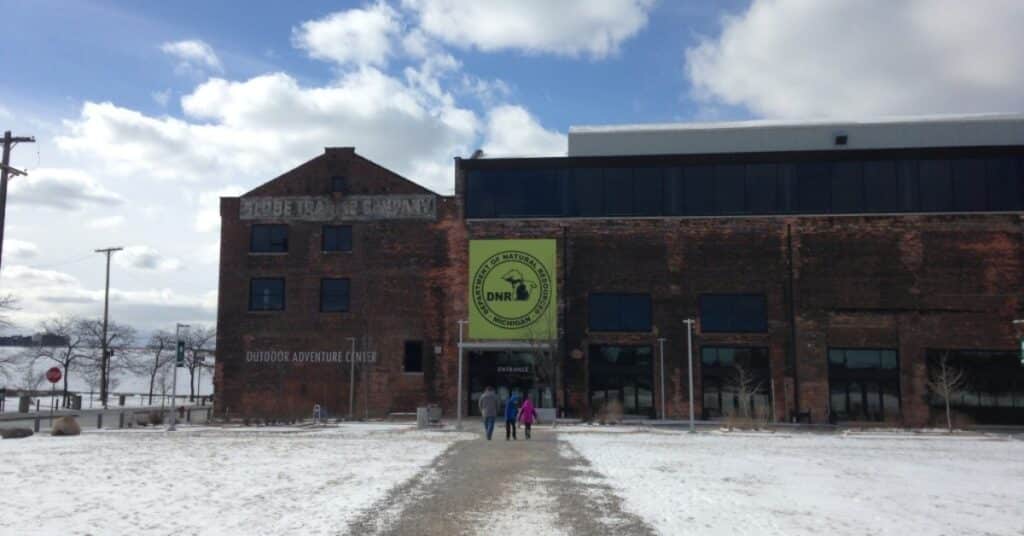 Once inside the building, you feel like you are outside – lots of sunlight comes in from the windows, and the outdoor displays are fantastic! One of the main features is a multi-story waterfall with a pond, including some stones to walk (or jump/run in the case of my kids!) across.
Another favorite part is the hanging bridge. It wobbles just enough to add some excitement but not too much to make it scary. My 8-year-old went across it many times.
The hanging bridge is an awesome feature and fun for all ages!
My 10-year-old enjoyed the simulators – there are many – snowmobile, ATV, mountain bike, kayak, fishing boat. Plus, a laser shot simulator to get a little taste of hunting (I was pretty good at squirrel hunting!).
There is also a multi-level tree to climb up and slide down. Even my 10-year-old still enjoyed this feature, and I bet the younger kids could play in it for hours.
The Detroit Outdoor Adventure is also equipped with an indoor archery range, and my kids got the opportunity to participate in a free 30-minute archery lesson. They learned how to properly hold the bow and shoot, and then each kid got to take 3 shots at a target. The instructors told us they would also start hosting regular archery lessons (in addition to the free introductory lesson).
We ended our afternoon on the third floor, where you can pretend to fly like an eagle and then have a photo op in an eagle's nest. You type in your email address, and the photo gets emailed to you instantly!
All in all, we had a great 2 hours at the DNR Outdoor Adventure Center. We highly recommend it to any families looking for an easy outing in the DNR. Here's some additional information to help you plan your trip!
Location: 1801 Atwater Street in Detroit
Parking: FREE SECURE lot located adjacent to the Center
Cost: $3 for kids, $5 for adults
Favorite things to do: The simulators, Playing in the tree fort, Exploring the third floor (where the eagle's nest and an eagle flying simulator are), Finding a place to go on a snowy day where everyone has fun and doesn't fight!
DNR Events and Festivals
Throughout the year, DNR hosts various events and festivals, each offering a unique celebration of nature and adventure. Join the vibrant community of outdoor enthusiasts as you participate in exciting gatherings. Mark your calendars for popular seasonal events that embrace the spirit of outdoor exploration.
Detroit's urban landscape may dominate the headlines, but beneath its bustling streets lies a realm of outdoor adventures waiting to be discovered. Embrace the call of the wild as Detroit's parks, waterways, trails, and camping destinations beckon you to explore. Unleash your adventurous spirit, dive into thrilling water sports, reel in unforgettable fishing experiences, and immerse yourself in the serene beauty of nature. Detroit invites you to embrace the uniqueness of its outdoor adventures, urging you to embark on a journey of exploration and connection with the city's natural wonders. So, seize the opportunity and let Detroit's great outdoors ignite your passion for adventure.