My family and I finally had a Sunday with no plans, so we decided to head down to the (relatively) new DNR Outdoor Adventure Center located east of downtown along the Riverwalk. What a great place to spend a few hours – especially on a cold/snowy day when there aren't as many outdoor options available.
The DNR Outdoor Adventure Center is located in a beautifully renovated building located along the Riverwalk.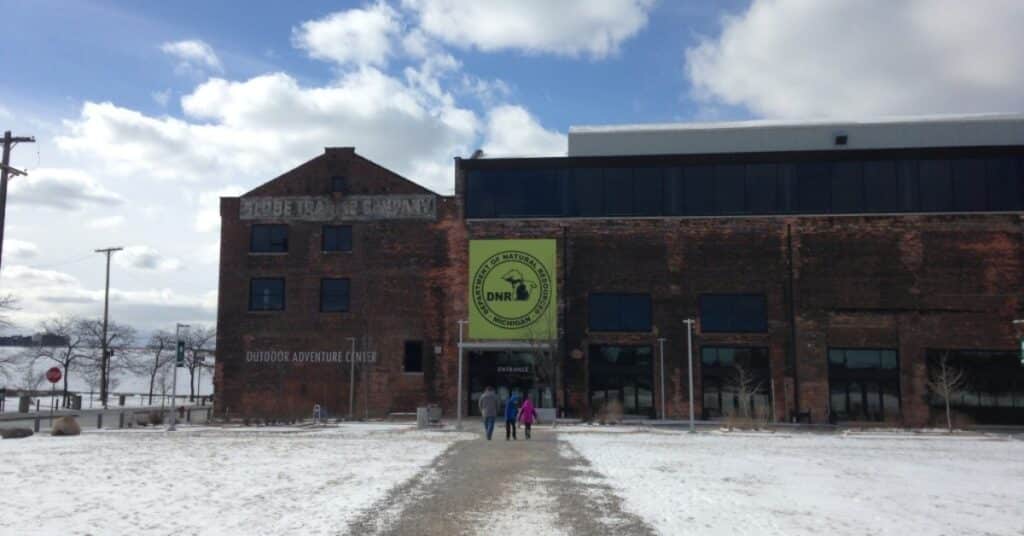 Once inside the building, you feel like you are outside – lots of sunlight comes in from the windows, and the outdoor displays are fantastic! One of the main features is a multi-story waterfall with a pond, including some stones to walk (or jump/run in the case of my kids!) across.
Another favorite part is the hanging bridge. It wobbles just enough to add some excitement but not too much to make it scary. My 8-year-old went across it many times.
The hanging bridge is an awesome feature and fun for all ages!
My 10-year-old enjoyed the simulators – there are many – snowmobile, ATV, mountain bike, kayak, fishing boat. Plus, a laser shot simulator to get a little taste of hunting (I was pretty good at squirrel hunting!).
There is also a multi-level tree to climb up and slide down. Even my 10-year-old still enjoyed this feature, and I bet the younger kids could play in it for hours.
The Outdoor Center is also equipped with an indoor archery range, and my kids got the opportunity to participate in a free 30-minute archery lesson. They learned how to properly hold the bow and shoot, and then each kid got to take 3 shots at a target. The instructors told us they would also start hosting regular archery lessons (in addition to the free introductory lesson).
We ended our afternoon on the third floor, where you can pretend to fly like an eagle and then have a photo op in an eagle's nest. You type in your email address, and the photo gets emailed to you instantly!
All in all, we had a great 2 hours at the DNR Outdoor Adventure Center. We highly recommend it to any families looking for an easy outing in the DNR. Here's some additional information to help you plan your trip!
Location: 1801 Atwater Street in Detroit
Parking: FREE SECURE lot located adjacent to the Center
Cost: $3 for kids, $5 for adults
Favorite things to do: The simulators, Playing in the tree fort, Exploring the third floor (where the eagle's nest and an eagle flying simulator are), Finding a place to go on a snowy day where everyone has fun and doesn't fight!