L'Anse is not really a destination for most travelers (I don't know why it's a cute little picturesque town!). It is usually simply a town on the way to the Porcupine Mountains or to the Keweenaw. But if you have the time, I really suggest taking some time to explore the outdoors surrounding this lake town. Get out, and explore L'Anse waterfalls!
The first stop is Silver Falls
Silver Falls is a group of waterfalls along the Silver River about five or six miles outside of L'Anse. Really easy to find and a beautiful place to take a walk. I visit all of these waterfalls during the fall, and oh dang! The colors were beautiful.
To find this waterfall, turn on Main St. in L'Anse and follow it out of town as it turns into Skanee Rd. Drive on this road for a few minutes through the country until you come to a gravel road on your right labeled 'Silver Falls Rd.' I believe it is about a 7-mile drive. Once you turn on Silver Falls Rd, it's about a quarter mile of a dirt road before you come to a parking area labeled 'Silver Falls' and an outhouse. Park here and follow the trail!
The trail leads you past a couple of drops along the river, but for the best views, go out and climb the rocks bordering the river. The trail is probably about half a mile long, all right on the river's shore.
Head over to Black Slate Falls & Quartzite Falls
Just a few miles farther down Skanee Road (if you drive over Slate River, then you have gone too far) and up another few miles on Avron Road (3.3 miles to be exact) are two more waterfalls that are worth the drive.
When you reach that 3-mile mark on Avron, look out for a road to the left. It was marked with a sign that said 'Waterfalls.' Follow this road across a bridge and park anywhere to your right in the clearing. You'll see two trails, one leading upstream to Black Slate Falls and one leading downstream to Quartzite Falls.
It doesn't matter which one you visit first, they are both beautiful!
Black Slate Falls has many drops, none very large, but all very peaceful and serene. I was out here alone; it was so calm and a nice place to relax. Nice place to see some wildlife as well!
Quartzite Falls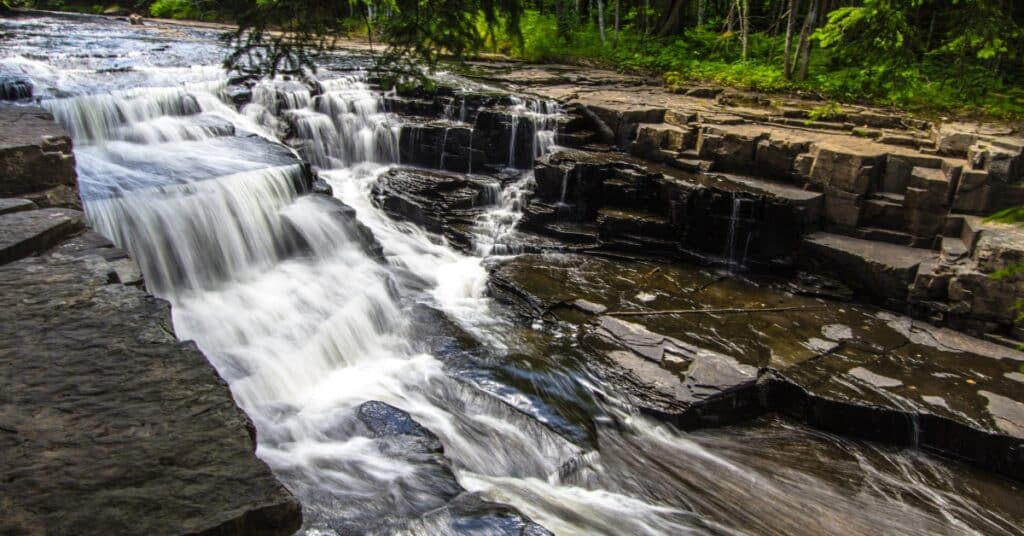 Quartzite Falls is a single waterfall, not a huge drop, but I think it is a unique one. It has a few steps in the descent and then just drops off into a deep pool. There is evidence of campfires and camping, and I would not mind doing either of those at this location! Possibly good fishing as well in this pool.
L'Anse is a little explored area, meaning the tourists have not yet discovered it! Which is awesome news for you. Go out and explore these waterfalls next time you pass through the area. None of these L'Anse waterfalls take much time to visit; you can see them in 20 minutes each or spend more time at each one. I spent probably an hour at Silver River Falls and then a little over an hour between Black Slate Falls and Quartzite Falls.