Growing up in the central Upper Peninsula made it easy for my family to take day occasional day trips to Mackinac Island. My Dad would pack up the car in the early morning, and about three hours later, my mom, Dad, sister, and I would be on a ferry to the island.
Those early memories include horses (lots of horses), fudge and ice cream, the hustle and bustle of the downtown area, and bike rides around the island. They're fond memories, but I realize now that my family only scratched the surface. Known for its horse and buggy rides, fudge, and bicycles, I continue to discover things to do on the island that I never knew about.
Below I'll list just a few of my favorite things to do on the Mackinac Island. Some you've heard of, others you probably haven't!
The Mackinac Legends and Lore Nature Trek
Want to be guided around the lesser-known parts of Mackinac by a local? Mary Patay's "Mackinac Island's Legends and Lore Trek" will get you just that. On my recent trip to the island, Mary guided my friends and me away from the busy downtown and through the solitude of Mackinac Island State Park. We toured Arch Rock, Sugar Loaf, and Fort Holmes and caught the view from Robinson's Folly.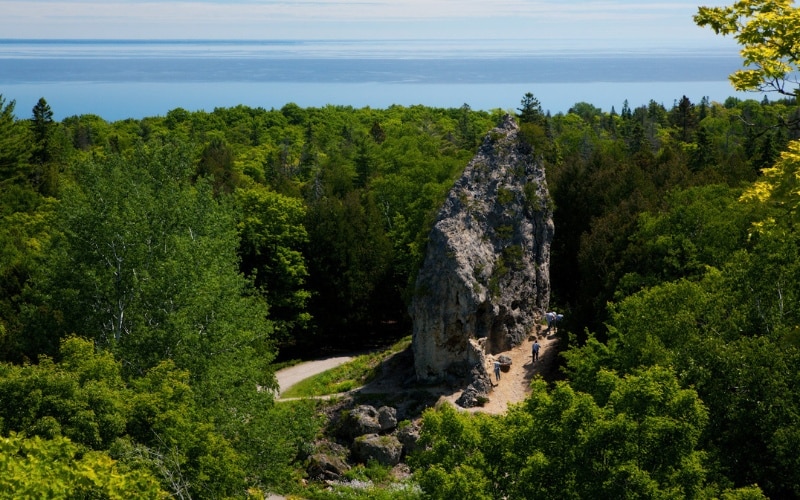 The walk was peaceful and scenic, and it was great to get a local's perspective. The tour is just $10 per person, and you can set up your own trek.
The Observation Tower and Exhibits at Mission Point
Maybe you've seen the tall glass observation tower at Mission Point Resort, or maybe you haven't. But one thing is for sure, it's well worth checking out. With five floors of historical exhibits ranging from the filming of Somewhere in Time to the construction of the Mackinac Bridge and much more. And though each level boasts a different enthralling exhibit, they all share one feature, an awesome view!
The Carriage Ride
The Mackinac Island Carriage Tour is popular for a reason! It's a great way to see some of the island's highlights while experiencing part of what makes Mackinac great, the horses. And the tour guides do a great job of imparting tidbits of history and little-known facts as you're pulled away from downtown, past Arch Rock, to the Butterfly House, and back again.
Bike Around the Island
Also popular for a reason, the eight-mile bike ride around the island is one of a kind experience. Even though there was a light rain, we threw on our raincoats, rented bikes from Mackinac Wheels†and had a great time. I love this bike ride because it's mostly flat, very scenic, and of course, there are no cars. And for you fat tire enthusiasts, Jimmy from Mackinac Wheels has been guiding weekly group single-track rides through Mackinac's interior, so be sure to ask about that.
Tour Mackinac by Kayak
Though we weren't able to make time to get out on kayaks or stand-up paddle boards on my last trip, I really, really want to make sure we do next time. Paul and the crew at Great Turtle Kayak Tours have a great selection of kayaks, canoes, and stand-up paddle boards to choose from, as well as a few great tour options. Personally, I want to check out the nearby Round Island Lighthouse, so I'll be connecting with them on my next trip!
Stay on the Island!
One thing we didn't do during my childhood trips to the island was stay there. It wasn't until a couple years ago that I first stayed on the island, and I'll never forget how cool it was to wake up to the sound of the horses' hooves clopping on the street below our room. On my most recent visit, we stayed in a waterfront suite at the Chippewa Hotel, and wow, what a view! And, of course, it was nice to be just a few steps from the Pink Pony, too.
Yes, it can cost more to stay on the island, but if you sign up for the hotel's newsletters (like I do) and keep an eye on their social media channels (which I also do), you might be surprised at some of the great deals they offer.
Those are just a few of my favorite things to do on Mackinac Island. What are a few of yours?