It was probably foolhardy to attempt a list of only five great metro Detroit corned beef sandwiches. We headlined the list "great" not "best" — because, as we acknowledged in the introduction, metro Detroit is full of places serving terrific versions of this indulgent sandwich.
Nevertheless, so many readers wrote to rave about their own favorite places that we're breaking with tradition and offering a second list. It's only five more, so it still might not include your favorite brunch, diner or deli, and if that's the case, we're sorry. But we promise that every corned beef sandwich on this list -and the prior one- is a delicious example of one of metro Detroit's favorite foods.
Last week's list gave shout-outs to Bread Basket Deli, Louie's Ham and Corned Beef, Hygrade Restaurant & Deli, Stage Deli, and Bronx Deli. This week, here are five more places for a great corned beef sandwich in Detroit.
Star Deli
It's hard to imagine anyone putting more quality and effort into a corned beef sandwich than Star Deli father-and-son owners Sidney and Harry Neuman. They start with Chicago's Vienna corned beef, customized to their specifications, and cook each piece slowly until it's literally fork tender. Their bread is a hearty, flavorful sourdough rye, double-baked to give it a great crust and then sliced by hand — not on a machine. They press the house-made coleslaw by hand to remove the excess liquid so it won't soak the bread. And if employees put too little corned beef on a sandwich, says Harry Neuman, it's a fireable offense. Everything's done for a reason, he adds: "When you make somebody an 8 or 9 or 10 dollar sandwich, we want it to be something they remember." Set in a small retail strip near the Telegraph and 12 Mile intersection in Southfield, the 44-year-old Star couldn't be more unpretentious — which is another reason legions of customers love it. Try the No. 1 seller, the Corned Beef Special: hot corned beef, Swiss, coleslaw, and the Star's own Russian dressing.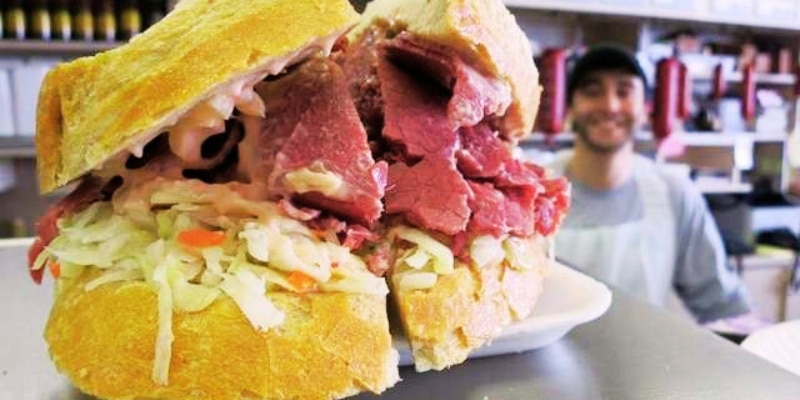 Jimmy Dee's Restaurant and Lounge
If you think delis have the market cornered on great corned beef sandwiches, you need to try Jimmy Dee's in Clinton Township. Its Legendary Corned Beef sandwiches — a name trademarked by owner William (Duke) Nicolai — more than hold their own with the best of 'em. Nicolai, who opened Jimmy Dee's in 1987, uses a special cut of beef prepared just for him by Groeble's Corned Beef in Eastern Market, cooks it until it's very tender, slices it thin, and mounds a half-pound of it on every sandwich. Try the Legendary Reuben Supreme: all that lean, moist meat and a thick layer of grilled sauerkraut with two slices of Swiss between thick, buttery, toasted slices of caraway-seeded rye from Russo Bakery in Clinton Township. It's terrific — and only $7.59. Sauces include your choice of tangy house-made Thousand Island, head-clearing grated horseradish, or spicy mustard. The menu ranges from burgers to plates of baby back ribs and fish-and-chips, but corned beef sandwiches outsell everything else — and have for years. Nicolai keeps count and posts the numbers on the sign outside, updating it quarterly. At the moment, it says 1,700,000 sold.
Lou's Deli
Detroiters have been coming to Lou's Deli on McNichols for three generations, so owner Marty Goodman must know how to please customers. He won't divulge what he calls the "trade secrets" that make his corned beef sandwiches taste so good, but the results are distinctive and delicious. What to order from the long menu? He likes the Counterman's Treat — lots of hot, tender corned beef topped with a generous layer of the excellent house-made coleslaw, another layer of corned beef, and a slice of Swiss, all stacked in a soft onion roll spread with house-recipe Russian dressing. If you're more the Reuben type, go for No. 41 — a double-decker made with three thin slices of grilled rye bread sandwiching two separate layers of hot corned beef, grilled sauerkraut, and Swiss cheese. Goodman, 67, went to work at Lou's 52 years ago as a busboy and bought the place 42 years ago. In 1995, he moved it down the street and upgraded. Today the restaurant has 50 employees and three locations — two in Detroit and one in Southfield. "Forget the money," he insists. "I just love what I do. … I'm a Jewish mother: I love to feed people."
Steve's Deli
This large Jewish deli in Bloomfield Township has it all, from knishes and kugel to fried kreplach, chicken soup, and a long list of overstuffed sandwiches. For corned beef lovers, the one that stands out is the No. 3 Reuben on grilled rye — warm through and through, with an extra-thick layer of tangy sauerkraut atop a big stack of sliced hot corned beef. A slice of deliciously melted Swiss atop the kraut helps hold it all together, and a swipe of Russian dressing on the bread adds sweetness and flavor. The proportions are just right, and there's a nice dill pickle spear on the side.
Siegel's Deli
Siegel's regulars come for its generously filled sandwiches at lower prices than most other delis; here, they're $8-$9. Owner Boris Izrailov, who bought the Commerce Township business in 2003, says his corned beef comes from Sy Ginsberg's United Meat & Deli in Eastern Market, and that's what makes his sandwiches good. "I got the best-corned beef," he declares. Sample the No. 6 Reggie on grilled rye with Swiss, house-made coleslaw, and sweet Russian dressing, and try the sauce on the side. Deli fans are sure to find their favorite combination on the list of 50 sandwiches.
Detroit comes as close to corned beef sandwich heaven as any place in America. Is it a coincidence we're also home to some world-class corned beef makers? Of course not. Whether your tastes run to the mildly garlicky Jewish style or the slightly spicier Irish style of brined-and-seasoned brisket, you're in luck if you're a corned beef lover in the Motor City.