Welcome to the fascinating world of historical sites and museums in Salt Lake City! If you're a history enthusiast or just looking for an educational and entertaining day out, you're in the right place. Salt Lake City, Utah, has a rich history. There are many interesting museums and historical sites to visit while there.
Salt Lake City is a treasure trove of historical sites and museums, each offering unique insights into the city's past. Much of the historical features surround the Mormon pioneers who first came to Utah. There is plenty to see and do while visiting Salt Lake City. Here is a list of some of the best museums and historical sites in this beautiful valley.
Museums
The University of Utah houses several interesting and diverse museums on its campus. The Utah Museum of Natural History has an excellent display of dinosaurs in the dinosaur discovery hall, excellent exhibits on Utah's Native American tribes, and also offers a variety of touring attractions.
The University of Utah is also home to the Fort Douglas Military Museum. It was established in 1862 by the U.S. Congress to assert its authority in the West. The fort features a wonderful self-guided walking tour.
The Utah Museum Of Fine Arts is also located on the University campus. This visual arts museum has something for everyone and hosts touring art exhibits. The museum is truly a cultural experience.
Another good option for exploring is the Museum Of Church History and Art. This is a fun way to find out more about the history and culture of Salt Lake City and the Mormon pioneers. The displays are excellent, and it is definitely family-friendly. This museum can be found at 45 North West Temple.
The Chase Home Museum of Utah Folk Arts is located at 617 E. South Temple. Isaac Chase, who first built a sawmill in Utah, owned this historic home, and when Brigham Young and the Mormon pioneers arrived, he became friends with them and built a very profitable flour mill. This home of his is beautifully restored and contains the ethnic, native, and rural folk arts of Utah.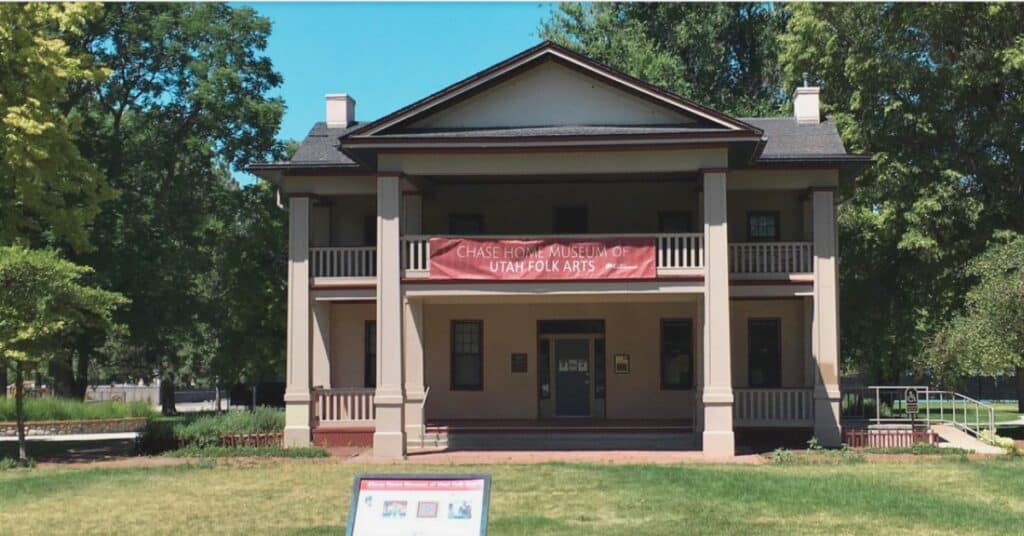 The Daughters of Utah Pioneers have established the Pioneer Memorial Museum at 300 North Main Street. It has six floors of interesting pioneer memorabilia, artifacts, and information.
The Children's Museum of Utah is an opportunity for children to be hands-on and interactive with their environment. Families can discover activities about animals, colors, size, transportation, food, etc. In this museum, everything is meant to be touched and explored by little hands! It can be found at 840 North 300 West.
Historic Sites
Wheeler Historical Farm is open from dawn to dusk every day, with seasonal activities to demonstrate the history of Utah farming. Activities include wagon rides, hands-on farm activities, tours, demonstrations, exhibits, etc. The farm is located at 6351 South 900 East.
Beehive House and Lion House were both homes of the famous Utah leader, Brigham Young. Built-in the mid-1800s, the Beehive House offers free tours to the public of this authentic home. The Lion House, which is used mainly for receptions, offers home-style comfort food for lunch at the Pantry. They are at 63 and 67 E. South Temple.
The Catholic Cathedral of the Madeleine is a wonderful example of Roman Gothic architecture. Both the interior and exterior are worth a look, so wander down to 331 E. South Temple, and check it out.
Temple Square is perhaps the most famous site in Utah for visitors. It is built on an entire city block, and visitors can admire the temple from the outside and the gorgeous, well-tended grounds. In addition to the temple, the grounds house the historic Tabernacle, Assembly Hall, and two visitor's centers. During the holidays, the many trees in Temple Square are strung with lights, and it makes for an excellent evening stroll. Although you can't miss it, the address is 15 E. South Temple.
This Is the Place Heritage Park overlooks the Utah Valley. It is where Brigham Young stated, "This is the right place," and includes a monument and historical information. Nearby, the Deseret Village includes over 490 historic buildings and is overseen by people in pioneer dress to give it an authentic feel.
Salt Lake City's historical sites and museums are a must-visit for anyone interested in learning about the city's rich history and culture. By immersing yourself in the past, you'll gain a greater appreciation for the present and a deeper connection to the city and its people.