Each week, thousands flock to Eastern Market Detroit to enjoy one of the most authentic urban adventures in the United States. It has existed since 1841, making it one of the nation's oldest urban farmer's markets. Check out our selection of things to do in Detroit's Eastern Market.
The market, and the adjacent district, are rare finds in a global economy – a local food district with more than 250 independent vendors and merchants processing, wholesaling, and retailing food.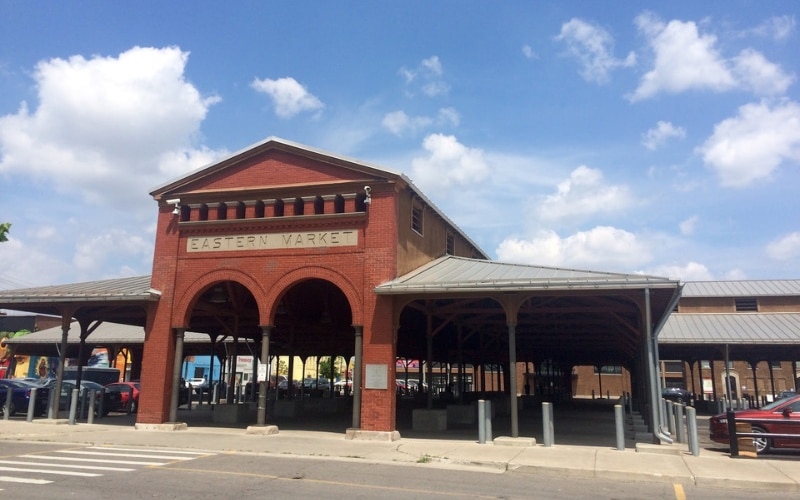 Most people are familiar with the bustling farmers market that overtakes Eastern Market each Saturday morning. It is the location of an enduring art scene, a growing restaurant district, and a burgeoning retail location. It's difficult to create an exhaustive list of everything going on in the market because things are always changing, events are always happening, and locals are always full of surprises. In fact, Eastern Market is probably one of the only places in Detroit that doesn't get much sleep. Monday through Friday, the wholesale market starts at midnight and runs until 6 am, supplying restaurants and consumers alike that are interested in buying bulk produce.
Markets aside, Eastern Market offers Detroiters, tourists, and people from the region a place to celebrate the city's legacy. Compiled here are just a few of the exciting things you can find at one of the oldest and largest year-round markets in the United States.
1. Art is for Everybody
In the fall of 2015, Eastern Market Corporation, 1xRun, and Inner State Gallery worked together to bring over 45 local and international artists to paint large-scale murals throughout the district for 'Murals in the Market.
For people that have visited Eastern Market before, it is obvious that outdoor art is integral to the culture of the market's landscape. However, Murals in the Market offered a unique opportunity for businesses and arts supporters to sponsor an individual piece from their favorite artist.
Now, the art is a lasting reminder of the collective investment in the market and those that use it as a place of commerce, a place to live, and a place to play.
2. Food That's Prepared for You
Eastern Market is absolutely known for its produce and meat markets, but it is also known for gaining traction with the restauranteurs and their avid followers.
Although many of these places have been in the market for years, there are a couple newcomers that are rounding out the district's offerings:
Bert's Warehouse
Almost as iconic as Eastern Market itself, Bert's Warehouse is a popular jazz bar and soul food restaurant that doubles as a concert venue. Bert Dearing, the owner of Bert's Warehouse, has been around for the last 29 years and has seen the many changes in Detroit first-hand. Make sure you check out the ribs, jazz, and other great events that happen in the theater!
Bert's Warehouse is a great place to find BBQ on Saturdays during the farmers' market. They have a full lineup of jazz and other musical acts on the weekends.
La Rondinella
Recently, La Rondinella joined the Eastern Market family offering northern Italian fare for very reasonable prices. As an ode to his family's heritage, Dave Mancini, owner of Supino Pizzeria, is creating an amazing experience for market-goers. Now, Eastern Market visitors have their choice of some of the tastiest pizza in Detroit next door to some of the tastiest Italian in the city.
La Rondinella is new to the Eastern Market team but is already wowing people with an excellent food and wine menu, joined by a superb lineup of craft drinks.
Cutter's Bar and Grille
Name for the meat cutters that opened the bar, Cutter's is a staple in Eastern Market that's often overlooked. Although it might look like your average Detroit dive bar from the outside, the bar offers some of the best burgers around. It's a little off the beaten path, but this is a spot to check out any day of the week for great food and awesome drinks in a relaxed atmosphere. Another bonus is that this spot is a great stop while visitors explore the many murals nestled throughout the district.
It's an unassuming exterior, but the mouthwatering burgers and happy hour menu are not to be missed.
Russell Street Deli
Known for its delicious sandwiches and fantastic soups that are now being sold as wholesale items in places like Whole Foods, Russell Street Deli is an important stakeholder in the Eastern Market restaurant family. The business is now over 25 years old, and Ben Hall and Jason Murphy, owners of Russell Street, began as dishwashers in the 1990s. Customers can eat well knowing that Hall and Murphy care about their employees because they pay well over the normal pay level for restaurant workers and work to provide benefits like healthcare and retirement plans.
Open for breakfast and lunch, Russell Street Deli is a great place to stop any day of the week in Eastern Market.
3. There's More Than Just Food
More and more, retail is becoming a part of the fabric that makes the Eastern Market function.
Interestingly, the juxtaposition of places like DeVries & Co 1887 and DETROIT VS EVERYBODY (DVE) proves just how multifaceted the district is in its offerings and its customers. Not only can shoppers find almost any cheese they might desire at historic DeVries, but they can also represent their love for the city at outfitters like DVE and Division Street Boutique, where the infamous Detroit Hustles Harder shirts are sold.
If that's not enough, there are letterpress shops like Signal Return and Salt & Cedar offering paper goods and classes for aspiring artisans.
DeVries & Co. 1887 offers the nostalgia that visitors desire when exploring all that is historic in Eastern Market Detroit.
4. Outdoor Adventures
Officially opened in 2009, the Dequindre Cut connects the Riverfront with Mack Avenue and travels through Eastern Market. Built a top the former Grand Trunk Railroad line, the trail is 20 feet wide, providing room for pedestrians and bikers, and it is lined by street art commissioned by the Detroit RiverFront Conservancy.
During the second phase of the project (connecting Gratiot to Mack Avenue), the Dequindre Cut passes through Eastern Market and is adjacent to the newly created Detroit Market Garden.
A project of Greening Detroit with funding from the Community Foundation of Southeast Michigan, the garden is a display of what can happen to a previously abandoned city block where stakeholders can learn how small-scale agriculture positively affects an urban environment.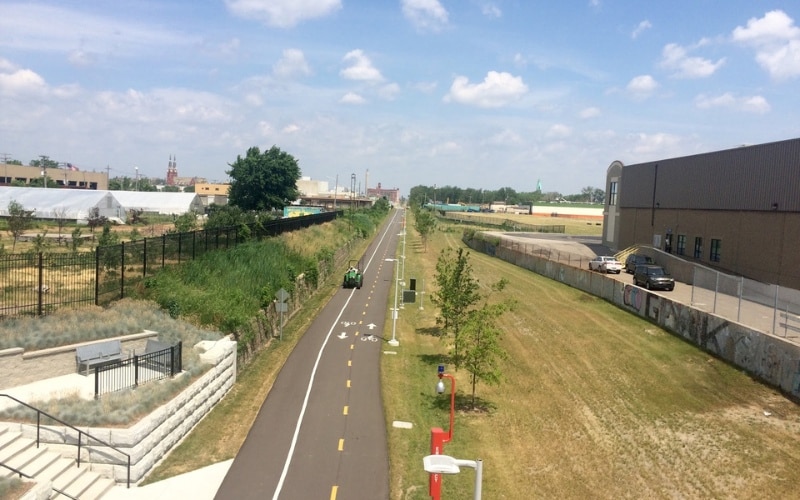 Looking north, the Dequindre Cut is adjacent to the revitalized Detroit Market Garden and heads toward the growing bike thoroughfare.
Final Words
It is like a small city. Since there are many restaurants, clothing stores, and other shops in this area, it has become one of the busiest parts of Detroit. All of these places are open every day, but the best time to go is on the weekend when there is a market.
What is the best time to visit Detroit's Eastern Market?
Saturday 7 am-4 pm (year-round)
Tuesday 9 am-3 pm (June-Sept)
Sunday 10 am-4 pm (June-Sept)
Location
Eastern Market, 2934 Russell St, Detroit, MI, USA
What are your favorite "characters" of Eastern Market? Tell us in the comments below!