A trip to a Michigan cider mill for some apple cider and donuts is a true sign of fall in Pure Michigan. Yates Cider Mill was born in the days of Lincoln, years before the electric light bulb made its debut. Six generations later, Yates continues to be a gathering place for many in and around the Rochester area. Yates is a place where people come to share traditions, memories, and a special sense of community.
The Yates mill operation spans six generations. Three generations of the Yates family and then three generations of the Posey family have continued to keep the original turbine water wheel and machinery running, which operate the Mill to this day.
A Look Back at Yates' History
Only a few pioneers attempted to venture to the Michigan wilderness until the mid-1820 ′s when the Erie Canal was complete and provided a dependable route from New York City to the Great Lakes. Thanks to the canal, travel time from New York City to Detroit fell from one month in 1800 to two days in 1860. By 1863 Michigan had more than 800 lumber mills and was also producing 3/4 of the Nation's copper.
It was during this time in 1863, William Yates from New York purchased an 84-acre tract of land and constructed a wooden dam across the Clinton River, and built the original Yates Mill. The Yates family began the Mill as a lumber mill and soon after expanded as a grist mill, grinding grain into flour for local farmers. As William's client customer base began to grow, he recognized the need for a cider press. Around the year 1876, Yates began to press apples for cider, first for local farmers who brought in their own fruit and paid a pressing fee and then for the general public. Even grapes were pressed at the Mill. Cider production continued to increase, and with the demand, Yates needed to grow.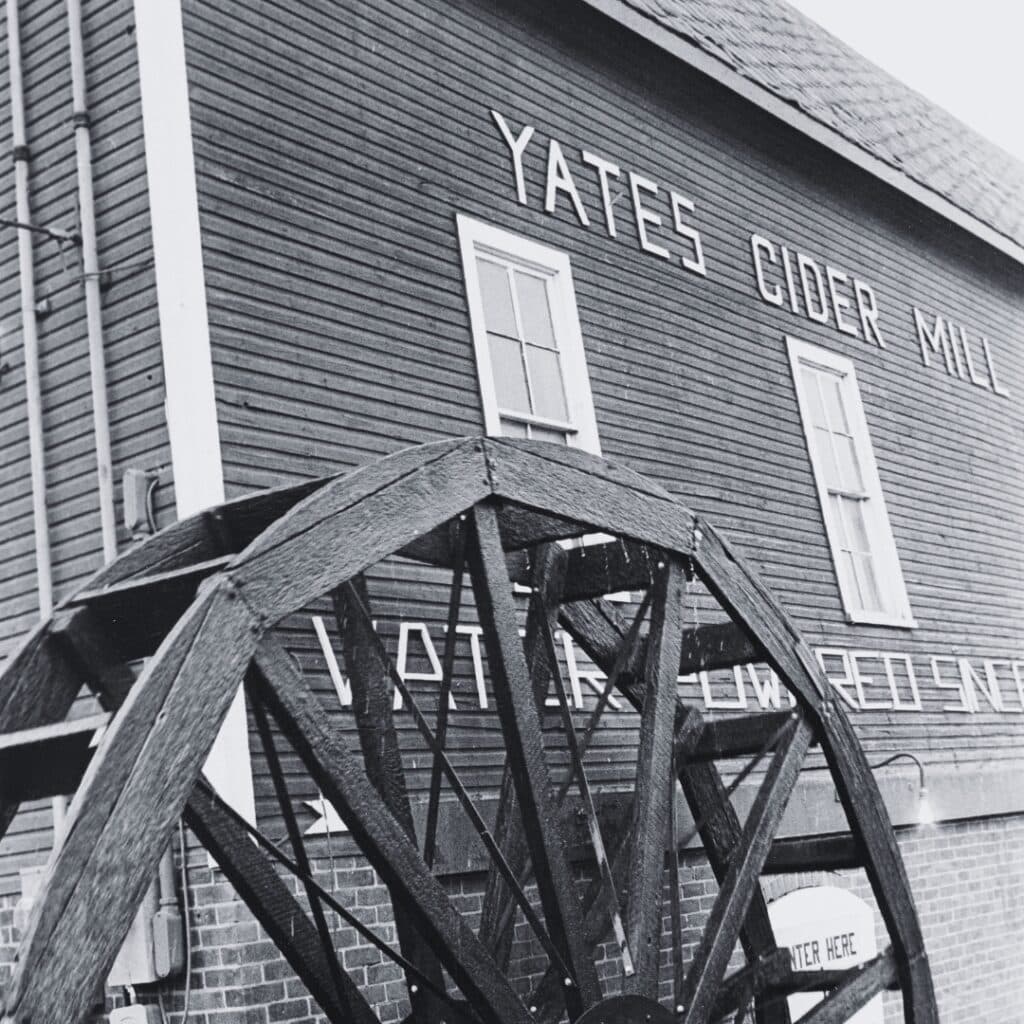 In 1894, the larger, existing Mill was built. A 26-inch water turbine wheel from James Leffel and Company in Springfield, Ohio, was installed with this construction and, to this day, provides the Mill's pressing power for cider production. The existing water-powered cider press was installed in 1924.
Today, Yates Cider Mill enjoys visits from thousands of people annually and is known all over the country for its rich history, premium apple cider, and delicious bakery products, including Yates's very own legendary donuts. In a world that seems to be changing faster every year that goes by, Yates Cider Mill remains a place to many where the clock seems to tick a little more slowly. Where friends and families come together and make memories.