We know you are sick of this weather. We are too. The piles of snow, the cold, the roads filled with potholes! We want spring! But since that darn groundhog was right, and it doesn't look like spring is coming any time soon, here are a few ways to beat the winter blues. In Detroit, of course!
1. Detroit Institute of Arts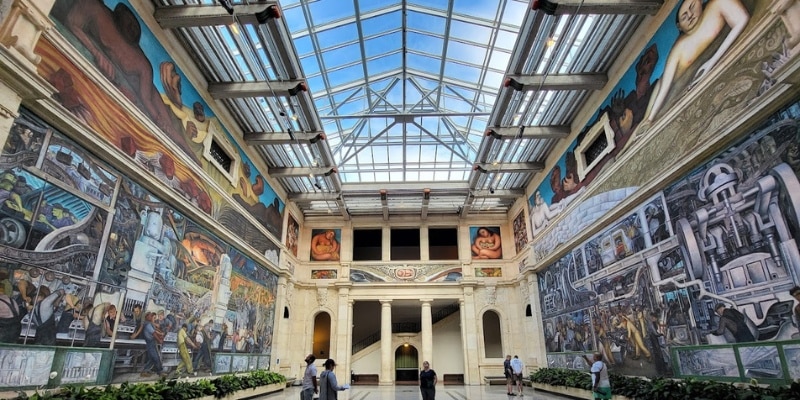 The DIA is a great place to be in any weather, but especially nice in the winter. Escape into a Van Gogh, enjoy a coffee in the recently renovated Prentis Court, or even pretend you're a Samurai. Samurai? Yep, from March 9th through June 1st, the DIA hosts the special exhibit – Samurai: Beyond the Sword.
2. The Peacock Room
If we can't have spring weather, we can at least have pretty spring clothes (and jewelry, handbags, and scarves….)! Conveniently located across the street from the DIA, The Peacock Room has something for everyone. One trip to The Peacock Room, and you will realize why shopping there is infinitely better than shopping at a large department store. Two words – customer service. The owner (Rachel) and her staff have helped me pick out presents, choose the perfect necklace for an outfit (without even seeing the outfit), and even once told me that a shirt I REALLY wanted was too tight. Now THAT is customer service! If you need some spring fashion inspiration, check out their Facebook page for pictures of some ridiculously cute spring dresses! And as The Peacock Room says, "Winter, you were SO last season."
3. Two James Spirits
Whiskey, bourbon, gin, and vodka. Do I need to say more? Located in Corktown, Two James Spirits is Detroit's first licensed distillery since Prohibition. The Tasting Room is open Tuesday through Sunday, and distillery tours are available on Friday and Saturday.
4. Michigan Science Center
It's easy to imagine spring when you walk into the Wish Upon A Butterfly exhibit at Mi-Sci. Walk among and even feed live butterflies in this special exhibit (now through June 15th). After visiting the butterflies, be sure to check out MiSci's permanent exhibits, shows, and IMAX.
5. Belle Isle
I know we usually associate Belle Isle with summertime fun, but hear me out on this one. There is plenty to do on the island in the winter, and it won't involve being cold. In fact, it is always warm in the Anna Scripps Whitcomb Conservatory, so head inside, relax under a palm tree, and dream of the warmer days ahead. More indoor fun awaits at the Aquarium, Dossin Great Lakes Museum, and Nature Zoo. And if you happen to be the one person that is not sick of winter, you could even try a winter hike out to the Lighthouse.
6. The Old Shillelagh
The Old Shillelagh is a great time any time of year, but March is their sweet spot. Join in on the fun of St Patrick's Day (I mean the weekend), and you will definitely forget all about your winter blues.