In the unassuming, working-class suburb of Hazel Park, within a mile of Detroit Proper, lies a legend among pizza joints: Loui's Pizza. My first introduction to Detroit-style pizza was Buddy's, a legend of its own with 9 locations in the Detroit metro area. But part of what makes Loui's so special is that there is only one.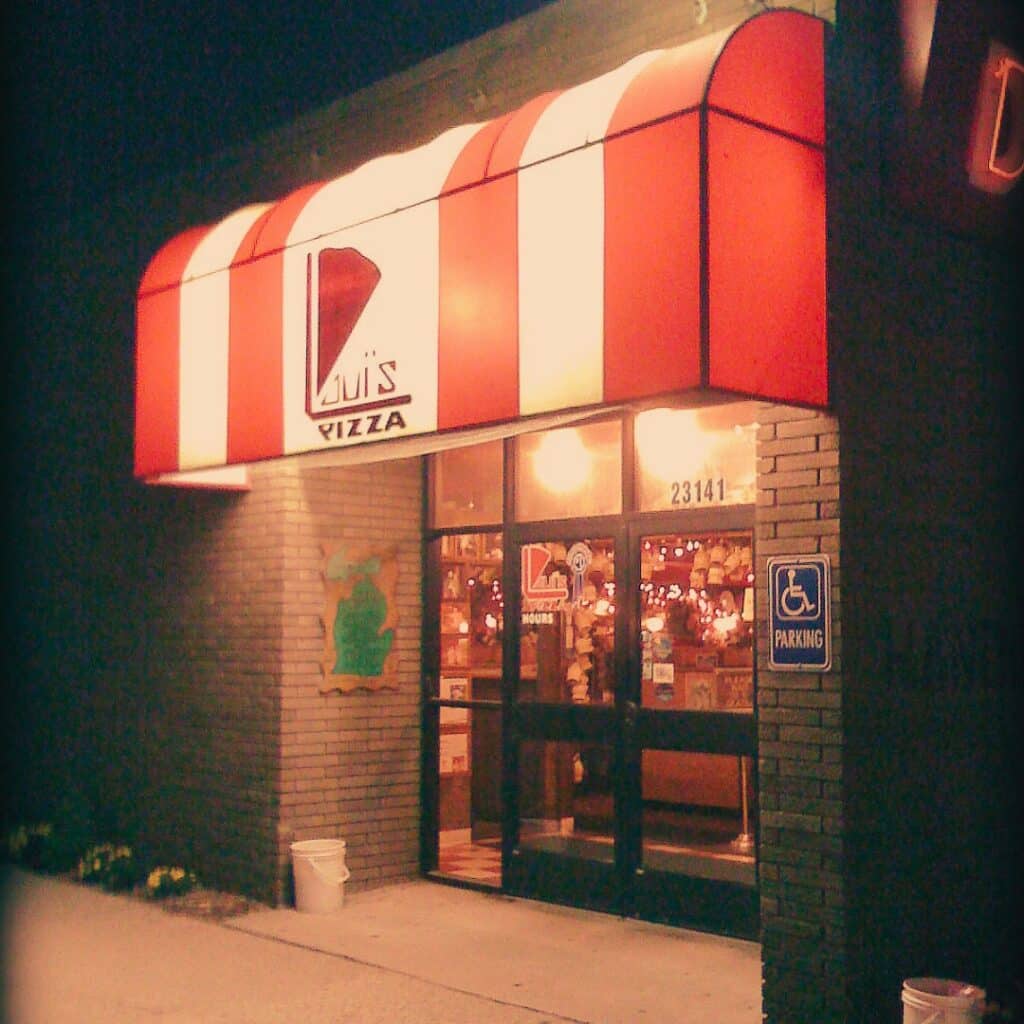 Loui's Pizza is so adorable in its ambiance as to trump any Buddy's atmosphere I've been to. There are literally hundreds of basket-cradled Chianti bottles draping the walls, interlaced with cheery Christmas lights on a properly Italian-Restaurant-Red background. The bottles are signed by loyal patrons from any number of years ago, as this location has been in the same spot for over three decades. Just walking into this place puts you in the mood for a great dining experience.
And you'll get one, too. Not the kind of upwardly mobile, wish I was in Chicago pizza dining experience best suited to the mall shoppers of the world. But real career waitresses who know your name, Made in Detroit, and have the exact same menu and furnishings since you were a kid dining experience that can only come from an authentic legend like Loui's. This place is a serious case study of pizza as comfort food.
So what about the pizza?
The pizza here is nearly indistinguishable from Buddy's, with the same square, Sicilian shape, same sauce-on-top structure, same scorched-outer-yielding-to-doughy-center crust, and same carmelized cheese edges that make it impossible to ignore as a pizza genre in its own right. I will say that the sauce at Loui's has an extra pepper bite and extra oregano that does distinguish it from Buddy's. For me, the only drawback was that the mushrooms were from a jar and not fresh. But with so many other things going for it, this minor misdeed was forgivable.
While we waited, my dinner companion and I sipped some adequate red table wine from a carafe and munched on the lauded antipasto salad. The salad was not fancy mixed greens, but straight-up, crowd-pleasing iceberg — fittingly served super cold — with very, very generous amounts of meat, cheese, and tomatoes mixed in, all swimming in the tangiest Italian dressing of your dreams. Highly recommended. We even took the leftovers home and added more lettuce. It was that dense with accouterment.
Apparently, Loui's history is intertwined with that of Buddy's. My understanding is that the owner, Loui himself, once worked at Buddy's, and then there was a schism in the world of Detroit-style pizza, and Loui's version of Detroit-style pie was born. I don't know the details. In fact, I just overheard patrons discussing it. Perhaps someone can shed some light on this intriguing tale of two pizzas.
Whatever the story – whether mundane restaurateur enterprise or salacious gourmand rivalry – the end result is more delicious pizza.
I will say until another pizza place can capture my heart with such decisive deliciousness and simpatico setting, Loui's Pizza will be my place to share with out-of-town guests when I want to show off how cool Detroit's pizza really is.
Loui's Pizza
23141 Dequindre Rd
Hazel Park, MI 48030-1600