What do we think of when we think of Indian food? It's a catchall term for a widely varied cuisine – no surprise when talking about a country of more than 1.2 billion people, multiple languages, and distinct regions. Here are the 5 best Indian spots in Detroit to experience different flavors.
Metro Detroit is home to many Indian restaurants, and no two are the same. Some are strictly vegetarian, and some are Halal (India has a significant Muslim population). Some focus on the delicious street food subset known as chaat, and some offer dozens of rich desserts.
Want to dig into your feast in a dingy room while eating from Styrofoam plates? Or dine in a finely appointed, colorful hall on porcelain? All things are possible when it comes to Detroit's supply of desi deliciousness.
Here are five area options of Indian restaurants in Detroit that run the gamut of South Asian cuisine.
Aahar
For a long time, Namaste Flavours wore the crown of best Indian (and best buffet) in the Farmington Hills area and even beyond. But Aahar, located less than a half-mile west of Grand River, has continuously stepped up its game to the point that on our most recent visit, it completely blew Namaste out of the arena. Want goat curry with some heat? Interested in Popeye the Sailor Man-level palak paneer (sauced spinach and farmer's cheese)? How about finishing things off with a tiny serving of excellent mango kulfi? The lunch buffet is all-you-can-eat, of course, so feel free to grab seconds on the kulfi, a frozen dessert. Or fifths. It's all here. Numerous Indian restaurants in Detroit have tried to make a go of it in this strip mall and failed, but it looks like Aahar is here to stay.
35564 Grand River, Farmington Hills
Aladdin Sweets & Café
Technically, Aladdin is a Bangladeshi restaurant but describes itself as offering those as well as Indian and Pakistani foods. Located on what is affectionately known as Bangladesh Avenue in Hamtramck — Google Maps knows it as Conant — Aladdin was an early harbinger of the increasing Bangladeshi population in Hamtown, opening in 1998. As indicated by its name, there's a good spread of tiny desserts in a cold case by the unassuming side entry; happily, a few of these are usually on offer at the lunch buffet, which makes for a sweet ending to the midday meal. Aladdin's halal entrée renditions are mild in terms of heat, but they're certainly not shy about employing rich, buttery flavors in dishes such as matar paneer, goat curry, and the outstanding tandoori biryani, a rice dish flavored with yogurt and spices. Grab a few samosas to go — both the meat and veggie versions are tasty, with the exteriors retaining their crunch even hours later.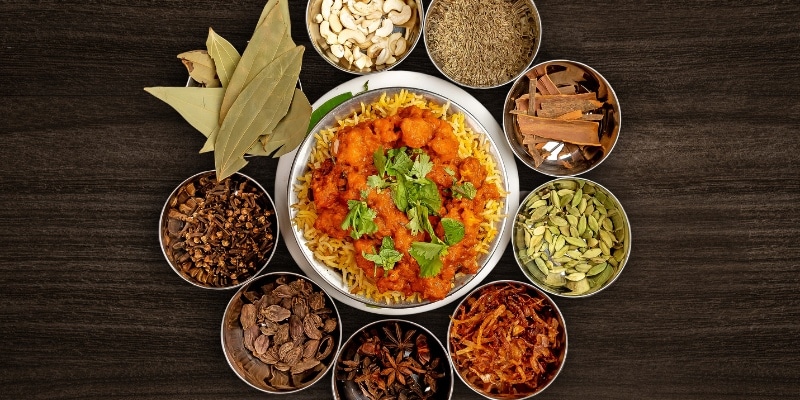 11945 Conant, Hamtramck
Krishna Catering & Restaurant
Located on the edge of Garden City and Dearborn Heights, Krishna is pretty much the epitome of nondescript: teal chairs, blue tables, and a somewhat sad-looking heated buffet separating the booth section of the restaurant from the freestanding table section. The back-lit menu on the wall behind the cash register looks like it stepped straight out of 1980s McDonald's. But the sign out front doesn't lie when it says "Pure Vegetarian Fast Food": the fare here is abundant and well-spiced, and the lunch buffet price can't be beaten at $7.99 ($5.99 on Tuesdays!). Roti and papad are supplied as bread-y accompaniments to the main dishes, and condiments range from a mouth-puckering, turmeric-laden achar medley, and shredded carrot pickles to split, fresh hot peppers. The short-order menu is a good mix of chaats, North Indian, Indo-Chinese, and South Indian options. Finish off your meal with a selection from the dessert case, which has everything from tri-range burfi — sort of the Indian version of tres leches but not really — to a syrup-dunked, spiral jalebi. Our recommendation? The super-tangy cup of shrikhand, a sweet, thick yogurt dotted with saffron.
28636 Ford Road, Garden City
Neehee's
Forget chicken tikka masala and lamb vindaloo and all of the basic Indian staples you've known all your life. Neehee's is coming up on its 5-year anniversary in Canton next year, and it's hard to remember how unpleasantly boring our lives were without the restaurant's eye-popping décor and a tastebud-popping menu of chaats, Indo-Chinese dishes, dosai, and housemade ice creams. Vegetarians love the place, while carnivores won't miss the meat at this all-veg outpost. Neehee's has well more than 100 menu items and seemingly just as many textures and flavors playing off each other, whether it's the crispy puffed rice in the bhel, the soft, sweet cakiness of the chickpea-based khaman dhokla, the crunchy, chewy kick of heat in the paneer chili, or the ultra-creamy decadence of any of the ice creams (we especially adore the fig and saffron flavors, but you can't go wrong with any of them). Small plates are anything but – made for sharing. And with so many fried (and fried well) items on the menu, the more diners you can drag with you, the more things you can try. If you think you know what Indian food is, get to Neehee's and expand your worldview.
45656 Ford Road
Phulkari Punjabi Kitchen
Phulkari is the reboot of Indo Pak Restaurant, a formerly sad-looking establishment on Dequindre in Madison Heights. When reopening as Phulkari in 2012, it immediately showed it wasn't messing around with a bright, white interior daubed here and there with hits of fluorescent color. It's a good analogy for the food served up here, which builds on the basic Indian flavor spectrum, and then — WHAM! — hits you with some neon crazy. Phulkari, as the name suggests, focuses on the regional cuisine of Punjab, which covers parts of both India and Pakistan, and offers some chaats and sweets. But the thali plate is the thing here, a combination offering available with both meat and vegetarian selections. It comes on a metal plate with small yet sufficient servings of each choice, along with naan or roti, rice, raita, achar, salad, and kheer or gulab jamun for dessert, and it looks like nothing so much as a painter's palette. The daily thali options are posted on the website; keep an eye out for their baingan bharta, velvety roasted eggplant mashed in a tomato gravy that is positively bangin'.
27707 Dequindre, Madison Heights
From fine dining to street snacks, these are the best Indian restaurants in Detroit has to offer.