Bangkok 96 in Dearborn is a non-nondescript restaurant off of Telegraph. At first glance, it's not a place that stands out, but then you notice something, the parking lot is always full. And I mean always. Since my usual Thai spot had recently closed, I needed a new place to feed my Pad Thai and Sweet & Sour addictions.
We started off with some fried tofu and some spring rolls. We never order any appetizers, the plates here are huge, but we wanted to give them a try. I could live without them.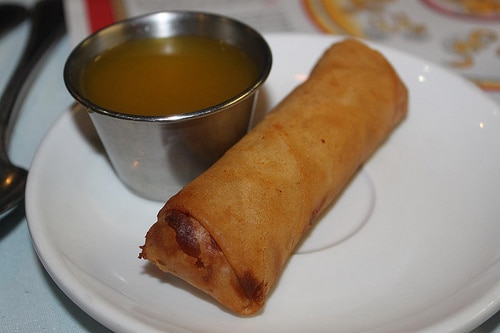 My friend is absolutely obsessed with their Pad Pak. It is umami-rich with a soy-based sauce and delicious assorted veggies. He loves to order it with shrimp.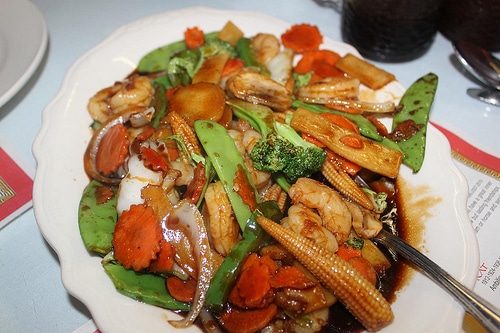 I decided to customize their yellow curry dish. I added pineapple, shrimp, and baby corn to the potatoes and eggplant. My favorite since then is just potatoes, shrimp, and pineapple in the delicious spicy yellow curry.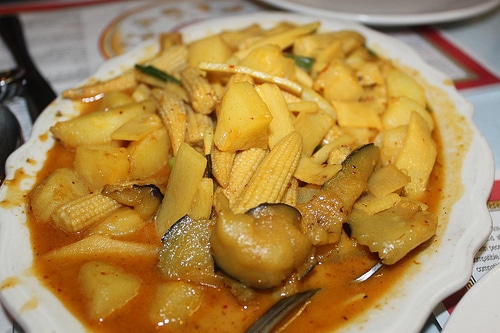 The Pad Thai is great here. Perfectly cooked noodles, nutty and surprisingly light.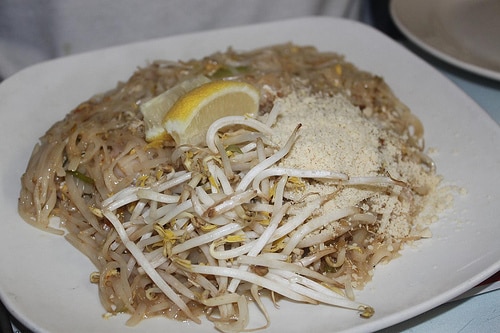 All the dishes other than the noodles come with white rice.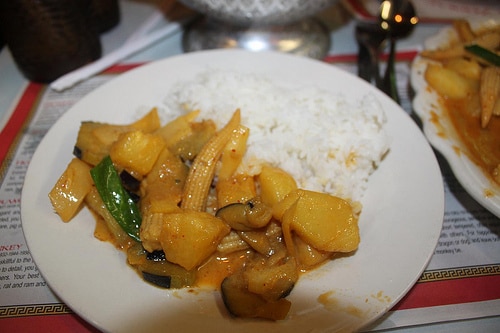 Bangkok 96 Restaurant in Dearborn – Reviews
The restaurant is located in Dearborn, Michigan. As a food lover, I had the pleasure of dining there, and I must say, it was an exceptional experience. The restaurant has a modern yet cozy ambiance that instantly puts you in a relaxed state of mind. The lighting is just right, not too bright nor too dim, and the décor is simple yet elegant.
The menu at Bangkok 96 is extensive and offers a wide range of Thai dishes. The food is authentic, fresh, and bursting with flavor. I highly recommend starting with the Thai spring rolls, which are crispy and filled with savory ingredients. Pad Thai is a classic Thai dish and one of the most popular dishes at Bangkok 96. The noodles are perfectly cooked, and the balance of sweet, sour, and savory flavors is just right. The Tom Yum soup, a spicy and sour soup with lemongrass, is a must-try for anyone who loves bold flavors.
One of the standout dishes for me was the Yellow curry dish. The curry is made with tender chunks of beef, potatoes, and peanuts and is served with fragrant jasmine rice. The curry is creamy, savory, and has a subtle hint of sweetness. It's definitely one of the best Massaman curries I've had in a while. Another standout dish was the green papaya salad. The salad is made with shredded green papaya, tomatoes, and roasted peanuts and is tossed in a spicy and tangy dressing. It's a refreshing dish that pairs well with rich and savory curries.
The service at Bangkok 96 is impeccable. The waitstaff is friendly, attentive, and knowledgeable about the menu. The restaurant also offers takeout and delivery services, which is a plus for those who want to enjoy delicious Thai food from the comfort of their own home.
The best way to get to the restaurant?
To get to Bangkok 96 in Dearborn, Michigan, you can use various modes of transportation, depending on your location and preference. If you're driving, the restaurant is located on Michigan Avenue, just east of the Southfield Freeway (M-39) and west of Greenfield Road. The address is 2450 S. Telegraph Rd, Dearborn, MI 48124.
If you're using public transportation, you can take the bus to the Michigan Avenue @ Outer Drive bus stop, which is located just a few steps away from the restaurant. Alternatively, you can take a taxi or a ridesharing service such as Uber or Lyft.
Open Hour
The restaurant is open seven days a week and serves lunch and dinner. On weekdays (Monday to Friday), the restaurant opens for lunch at 11:00 am and closes at 3:00 pm. The restaurant reopens for dinner at 4:00 pm and closes at 9:30 pm.
On weekends (Saturday and Sunday), the restaurant opens for lunch at 12:00 pm and closes at 4:00 pm. The restaurant then reopens for dinner at 4:30 pm and closes at 9:30 pm.
It's always a good idea to call ahead to confirm the hours, especially during holidays or special events. Reservations are also recommended, particularly during peak hours, to avoid waiting for a table.
Bangkok 96 in Dearborn is a fantastic Thai restaurant that offers authentic and delicious Thai cuisine. The menu is extensive, the flavors are bold and well-balanced, and the service is top-notch. Whether you're a fan of classic Thai dishes or looking to try something new, Bangkok 96 has something for everyone. I highly recommend this restaurant to anyone looking for an exceptional dining experience.
Definitely recommend eating here in Bangkok 96 restaurant for some great Thai dishes. Don't be surprised if the place is packed; the exterior might fool you. Also, the takeout line is incessant. Have you been?