Based on the Great Detroit Poutine Explosion of 2012, one would think that the gravy-and-curds combo is the only way to get one's french fries topped in this town. Thankfully, for those of us who love a deep-fried tater, that is a complete and utter fallacy. Fries topped with goodies other than poutine are available all over metro Detroit, from Greek feta and lemon to a simple dusting of rosemary and sea salt.
For five great topped fries big enough to share — although you might want to keep them all to yourself — read on. All of these are delicious enough on their own, but when used as a vector to deliver a shot of pulled pork or blue cheese or any other topping directly to your mouth, that's when they stop being polite and start getting really tasty.
ASHLEY'S BEER & GRILL
Ashley's is one of the area's oldest craft beer destinations, logging more than 30 years in Ann Arbor and operating in Westland since 2007. Both locations boast dozens of taps and a solid menu of bar food, including a section devoted to fries. The eight options here include bacon cheddar, rattlesnake (jalapeño Alfredo sauce, mozzarella, sliced jalapeños), pesto with sun-dried tomatoes and Parmesan, and two variations on poutine. The perfect choice, though, is the Stilton fries. They're not cheap at $9.99, but the portion is huge — an appetizer for two or three or an entrée for one if you're feeling particularly unhealthy. The interplay of the crisply fried, seasoned waffle fries and the deliciously dank blue cheese is inspired. English Stilton melts all over the fries in such a way that you can't see the pale yellow cheese at all, really — just the veins of blue. The funk goes great with a wide range of beers, bringing out unexpected flavors, amping up the chocolate in a stout, or smoothing out the bitter edges of an IPA. The jalapeño dip on the side doesn't bring much to the table, but it doesn't need to. This is all about the cheese.
7525 Wayne, Westland, 734-525-1667; 338 S. State, Ann Arbor, 734-996-9191
GANGNAM CHICKEN
Royal Oak's Gangnam Chicken filled a gaping void in the Detroit food scene when it opened in January by serving the otherworldly delicacy known as KFC — Korean fried chicken. The virtues of KFC are myriad, from the soy-garlic and spicy sauces to the superb crunch that comes from double-frying, but we'll talk about that some other time. Right now, we need to talk about the kimchi fries on the Street Food side of the menu because they are a gut bomb of genius. On the one hand, you have a place that knows its fried food, and it shows in the crispness of the french fries. On the other, you have kimchi, which owner Paul Lee and his wife make themselves by fermenting Napa cabbage for a month. The pickled cabbage's vinegary flavor is the ideal foil to cut through the greasy weight of the fries (and the cheese, spicy mayo, sour cream, and caramelized chopped onions that also top this dish). Lee sautées the kimchi before adding it to the fries, which brings out even more flavor yet doesn't sacrifice any crunch. Eat them with a fork.
112 Catalpa, Royal Oak; 248-439-6645
HELLENIC RESTAURANT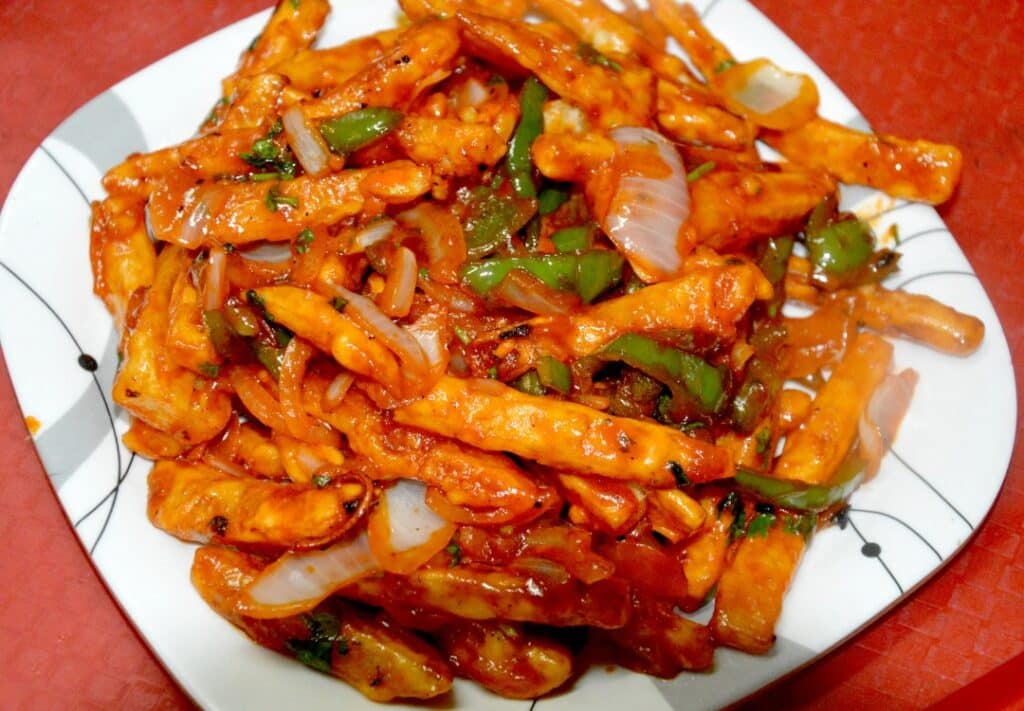 Every Detroiter worth his (or her) salt has two answers to the age-old "What's your favorite coney?" question. The first is either Lafayette or American. The second is their other default coney. It might be the one with the best Greek dressing, the snappiest dog, the finest-tuned fountain soda machine, or simply the strongest memories of childhood lunches past. Hellenic happens to have great Greek dressing and fountain Coke to match, but it's the fries that keep folks coming back. Be careful when you order — it has "regular" frozen fries, but what you want are the hand-cut fries, which are made fresh in-house every day. Ask for them well-done and topped with chili (it's National chili), although we actually prefer them with the chili on the side for dipping in order to preserve the fries' excellent crunch. The restaurant dropped coney island from its name when it moved from its longtime Southfield digs a mile north a few years ago, but the menu remains as strong as ever.
27150 Evergreen, Lathrup Village; 248-443-1800
LAZYBONES SMOKEHOUSE
2014 finds the east side's best barbecue in a good spot. After closing a second location in Clinton Township in late 2012, the Roseville spot successfully built a kitchen expansion, began a weekly collaboration that has blossomed into a daily gig with nearby Dragonmead Microbrewery, and continues to turn out outstanding smoked meats ranging from the usual porky suspects to rarer birds like turkey. (The occasionally available smoked corned beef is not to be missed.) If you're not in the mood for a straight-up brisket plate with a side of collard greens, pivot to the pig fries, a giant pile of broasted potato wedges covered with cheddar, house-made chili, caramelized onions, tomatoes, jalapeños, and the piece de resistance, pulled pork. Chef-owner Deni Smiljanovski always gets a good bark on his pork, and at $6.99, this dish is an artery-endangering steal.
27475 Groesbeck, Roseville; 586-775-7427
MERCURY BURGER & BAR
There are a number of fine burgers available in Corktown these days, and Mercury provides a menu packed with some of the finest. The fryer on the premises is no slouch, either, turning out not one but two types of top-notch taters. Tater tots are available smothered in poutine, chili cheese, or even as tater tachos (cheese, bacon, jalapeños, salsa, cilantro sour cream) or Buffalo-style. There's no fronting on the tots — they're very good. The hand-cut french fries, however, are far and away from where you want to spend your calorie count. No need to ask for them well done, as they arrive with nary a soggy bit to be found. Get the garlic fries, which deliver a double punch of anti-vampire goods by using both garlic oil and fistfuls of roughly chopped, raw garlic. Take them to the next level by drenching them in malt vinegar. It's far less harsh than it sounds, although it might be best to involve your partner in the eating if you're not planning to sleep alone later that night.
2163 Michigan, Detroit; 313-964-5000